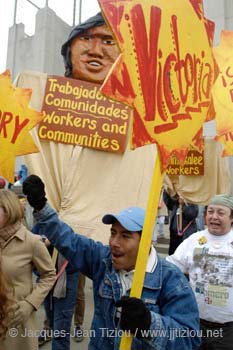 This month brings a couple of big news updates from the Coalition of Immokalee Workers and their ongoing wildcat labor campaign to raise wages and improve conditions for Florida tomato-pickers. First, an important victory — the CIW has won an agreement with Chipotle. Second, a reminder about interconnections, alliances and new campaigns in Florida, with the ongoing pickets and migrant farmworkers now joining the struggle against the School of the Americas.
From Denver — victory in the long-running Chipotle campaign:
CHIPOTLE SIGNS AGREEMENT WITH CIW TO JOIN FAIR FOOD PROGRAM

DENVER, October 4, 2012 – Chipotle Mexican Grill and the Coalition of Immokalee Workers (CIW), a farmworker-based human rights organization, have reached an agreement that brings Chipotle's commitment to sustainable food to the CIW's Fair Food Program. The agreement, which will improve wages and working conditions for farmworkers in Florida who pick tomatoes for Chipotle, comes in advance of the winter tomato-growing season, when most of the nation's tomatoes come from growers in Florida.

The Fair Food Program provides a bonus for tomato pickers to improve wages and binds growers to protocols and a code of conduct that explicitly include a voice for workers in health and safety issues, worker-to-worker education on the new protections under the code, and a complaint resolution procedure which workers can use without fear of retaliation. The Program also provides for independent third party audits to ensure compliance.

With this agreement, we are laying down a foundation upon which we all – workers, growers, and Chipotle – can build a stronger Florida tomato industry for the future, said Gerardo Reyes of the CIW. But more than this, today's news marks a turning point in the sustainable food movement as a whole, whereby, thanks to Chipotle's leadership, farmworkers are finally recognized as true partners — every bit as vital as farmers, chefs, and restaurants — in bringing !!!@@e2;20ac;2dc;good food' to our tables.

Chipotle becomes the 11th company to join the CIW's Fair Food Program, which is designed to create a sustainable tomato industry through respect for the rights and concerns of all involved. The Fair Food Premium paid by participating buyers like Chipotle is used to help participating growers improve wages and working conditions for Florida farmworkers.

— Coalition of Immokalee Workers and Chipotle Mexican Grill, joint press release, October 4, 2012. Emphasis added.
CIW announced that with this agreement, all plans for upcoming actions against Chipotle have been cancelled. Chipotle is now participating in the penny-per-pound program through its agreement with CIW.
From Miami:
CIW, allies join forces in Miami to protest Publix, School of the Americas, in support of human rights!

More Publix actions in the pipeline…

All too many CIW members came to this country years ago fleeing widespread political oppression in their home countries at the hands of military dictators and their subordinates who had one thing in common — they were trained at the School of the Americas (SOA),[1] an infamous military training facility located at Fort Benning near Columbus, Georgia. The SOA boasts a long track record of graduates responsible for brutal human rights violations in CIW member home countries including Haiti, Guatemala, and Honduras.

Because of this deep connection, and because the struggle for human rights is without borders, the CIW has joined with members of the School of the Americas Watch (SOAW) for nearly a decade in their untiring efforts to end human rights abuses throughout Latin America. This past weekend in Miami was no exception, as CIW members and their families joined SOAW members for a march in Miami , then continued from there, with the support of the SOAW marchers, to a march on a Miami-area Publix store that stretched a full city block:

There are many more Publix protests in the weeks ahead, including a picket at the grand opening of the Dunedin Publix (902 Curlew Rd) this coming Thursday morning, Oct 18th, at 7:30 AM. We'll be there bright and early for the ribbon cutting, so don't miss it!

You can contact us for more details on how you can join us at the Dunedin picket, and other Publix protests in the month of October, at workers@ciw-online.org.

— Coalition of Immokalee Workers, October 15, 2012.
As I said in 2005, after the CIW's first big groundbreaking victory in their Taco Bell campaign:
This is a major victory for the CIW and for farmworkers as a whole. There's a lot that organized labor can learn from it: how CIW won while overcoming barriers of language and nationality, assembling a remarkable coalition in solidarity (from students to fellow farmworkers to religious organizations and onward), drawing on the dispersed talents of agitators and activists in communities all across the country, and making some brilliant hard-nosed strategic decisions (e.g., the decision a couple of years ago to begin the Boot the Bell campaign–which hit Taco Bell where it hurts by denying it extremely lucrative contracts with college and University food services). I only know a bit of the story from following the boycott, and I already know that it's a pretty remarkable story to tell. I look forward to hearing more.

It's also — although you won't hear this as much — a major victory for government-free, syndicalist labor organizing. The CIW is not a bureaucratic government-recognized union; as a form of organizing it's far closer to an autonomous workers' syndicate or a local soviet (in the old sense of a democratic, community-based workers' council, not in the sense of the hollow state apparatus that the Bolsheviks left after the party committees seized power at bayonet-point). Of course, not having the smothering comfort of the US labor bureaucracy to prop them up has often made things harder on the CIW; but it's also made them freer, and left them free of the restraints on serious and innovative labor activism that have held the government-authorized union movement back for the past 60 years. (Example: the strategic decision to target Taco Bell in the first place–that is, the whole damned campaign that allowed the Immokalee workers to win such a huge improvement in their standard of living–was a secondary boycott, and so would have been illegal under the terms of the Taft-Hartley Act and the Landrum-Griffin Act. But since the CIW doesn't need a permission slip from the NLRB to engage in direct action, they won the day–not in spite of, but because of their freedom from government restraints on labor organizing.

— Charles Johnson, El pueblo unido jamás será vencido,, Rad Geek People's Daily, March 23, 2005.
As I wrote a few years later, after their victory in a campaign to win an agreement from Subway:
The Blockheads of the world may insist that unions survive only through violence, and win only through either the intervention of the State or vigilantism against non-unionized fellow workers. Yet somehow, today, I find this message from the Coalition of Immokalee Workers — and a similar e-mail from their allies in the Student/Farmworker Alliance — a southern Florida farmworker's union that uses nonviolent protest, secondary boycotts, and other creative pressure campaigns on behalf of Florida tomato pickers, and which (because it is a farmworkers' union) has no access at all to the government labor relations bureaucracy. Somehow, they have survived. Somehow, they have won — again. Fellow workers, the C.I.W.'s ongoing series of inspiring victories for Florida farmworkers are both an inspiration and a reminder. We should never forget the power of creative extremism and wildcat unionism — a power that needs no government, no ballot boxes, no political bosses, no Officially Recognized labor bureaucrats, no lawyers, and no Changeling political parties. It's the power that fellow worker Joe Ettor reminded us all of, as he and his fellow workers struggled to a hard-won victory in the great Bread and Roses textile strike of 1912, when he said:

If the workers of the world want to win, all they have to do is recognize their own solidarity. They have nothing to do but fold their arms and the world will stop. The workers are more powerful with their hands in their pockets than all the property of the capitalists. As long as the workers keep their hands in their pockets, the capitalists cannot put theirs there. With passive resistance, with the workers absolutely refusing to move, lying absolutely silent, they are more powerful than all the weapons and instruments that the other side has for attack.

Yes, we can do it–ourselves. And we will.

— Charles Johnson, Victory to the Farmworkers!, Rad Geek People's Daily, December 2, 2008.
It's great to see CIW's radical presence and their ongoing victories in campaigns that highlight the deep connections between neo-imperialism, military statism, and the deep, artificial, violently-backed inequalities of state capitalism. They know what's up, and they have been an inspiring example in the kind of creative extremism that gets the goods.
Also.
[1]SOA was rebranded as WHINSEC, the Western Hemphisphere Institute for Security Cooperation, in 2001.↩