Come here for all the exciting updates and insightful commentary, in real time!
"Mr. Speaker, Mr. Cheney, members of Congress, fellow Americans…"
Live Update! 9:22pm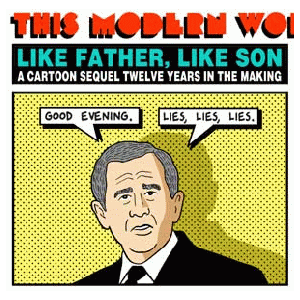 Live Update! 9:31pm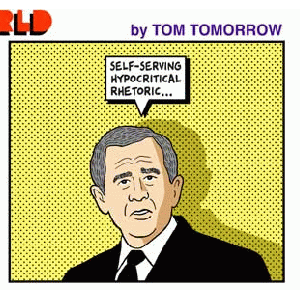 Live Update! 9:54pm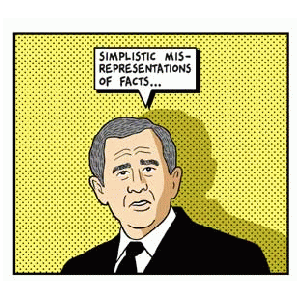 Live Update! 10:02pm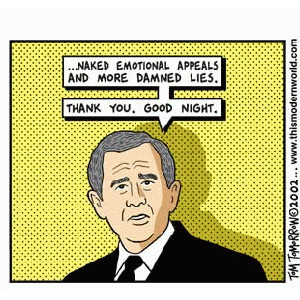 Conclusion
Just remember: when these folks get in front of the camera they just lie. Politicians' aims are political victory, not truth, and not justice. Hanging on the words and dickering about this or that point and fuming about this or that plain non sequitur will be talking past them entirely. You may as well spend the same amount of time cleaning your house, or sorting old photographs, or sucking on lemons.
Pointing out some piece of plain nonsense may have some value in provoking other people–the so-called rank and file, i.e., you and me–to think for a moment; and it may be worthwhile to use it to call on those other people to discourse that moves a bit beyond the braying of talking-points. But lingering on the endless talk of politicials or the professional political windbags inside the Beltway, as if these folks care what we think, or about what is true, is like trying to beat a street hustler at his three-card monty. It's a scam. Just walk away.