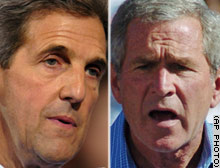 First of all, John Kerry is a douchebag, but I'm voting for him anyway.
Yes, I know he's a statist, and a lame-o weak-kneed liberal to boot. Yes, I know that he voted for the authorization of force against Iraq, and that he hasn't announced any plans to do what any rational and sane person should realize it's time to do–withdraw immediately and completely. Yes, I know that the process I'm going to be participating in tomorrow has no legitimate authority whatsoever no matter who I vote for–and that strategically, replacing one creepy-looking imperial Executive with another slightly less mad one is no means to long-term change. That sucks, but it doesn't matter.
It doesn't matter, because voting is a legitimate form of self-defense and I live in a swing state where a handful of votes may determine whether 17 electoral votes go towards throwing George W. Bush out of the White House or propping up four more years of the same.
Yes, most of the reasons I have for voting for Kerry are purely negative ones. He's bad on the war, sure–but not nearly as bad as its big fat liar of an architect. Yeah, he's an unreconstructed statist with a bad record on civil liberties–but not nearly as bad as George W. Bush, who has presided over the largest increase in State bureaucracy and spending since the Great Society, and who believes himself accountable to none save God alone. Sure, his campaign has treated feminists like crap, but, Jesus, it's not like a second Bush administration is going to bode well for the success of feminist activism. And all of this is important. Given that Kerry is not even worse than Bush (and he's not), one of the single most important reasons to take the time to get out and vote for Kerry tomorrow (if you're in a swing state, as I am) is that after everything he's done, George W. Bush must be thrown out of office. If he's not punished after all of this, then that means one more blow to the fragile bulwarks remaining for justice and freedom in this country. We have precious few opportunities to pull back the reins on galloping Caesarism, and tomorrow is one of them; there's no excuse, if you have the chance, not to pull as hard as you can.
And there are a couple of positive reasons to vote for Kerry. First, nearly all of his faults are faults that Bush shares or exceeds. But he is good on abortion; he won't continue the present gang's war for control over women's bodies. Don't think abortion's very important? Well, you should; if you don't think that the right of women–also known as "the majority of the population"–to control their own internal organs, or the use of systematic State violence against women to tread on that right, is a really big deal, well, you had better check your premises. And secondly, Kerry is bad on almost everything else–but a possibility for making things better exists under a Kerry administration that will continue to be vanishingly small in an entrenched, contemptuously secretive, smugly self-satisfied second Bush adminisration.
All that said, we need to remember, as it comes down to the wire, that tomorrow is not the Battle of Armageddon. The world will go on whoever wins, and we will need to figure out what we are going to do–because we are going to face some pretty hefty challenges whether Kerry or Bush is partying at the end of the night (or whether both of them are biting their nails waiting on further legal developments).
So I know what I'm going to be doing tomorrow–voting and then volunteering to go door to door for a few hours before I turn in. And I figure you know what you are going to be doing, too. But here's the question: what are we going to be doing the day after tomorrow? Come November 3, what can we do that will move things forward whether it's Bush or Kerry we're going to have to be dealing with?
For my part, I don't know entirely, and I'm interested in hearing what y'all think. (Comment away!) But I do know one thing for sure.
I sure am tired of following these assholes.
I'm tired of the two-party duopoly, and I'm tired of incumbents. pinning my hopes on blockheads like Kerry and I'm tired of listening to know-it-all professional blowhards speculate about the color of Kerry's socks and its impact on undecided Soccer Moms. I know that we are going to need to keep organizing and take the fight to them no matter who wins, but I can't take federal representative politics much longer and I can't say that the prospects for meaningful, long-term change through picking between these guys look tremendously bright.
Yeah, Deaniac grassroots politics would help. Sure, we could use instant runoff voting and term limits and lowered ballot access requirements. Fine, I'll put in my two cents' worth in favor of building independent parties. I don't dispute that that would help things a bit. But the more that I think about it the more I think that we (address this to my Libertarian comrades or my Leftist comrades or my Anarchist comrades, whichever you prefer) ought to re-think how we are trying to get things done when we're working undercover in The System. Because I, for one, am about at the end of my rope.
I'm sure that Kennedy and the rest of the No Treason! crew will take this as as good an opportunity as any to argue that building movements is a dead-end game. I don't buy that, yet, for a lot of reasons–I suspect that a rigid distinction between volunteer politics and businesses involves some confusions about the nature of the market in a free society, and I have a lot more faith in ordinary people and the historical record of people's movements. For the time being, at least, I'm more than willing to sign on for political organizing, activism, and evangelism–even working in the belly of the beast, if need be, to help give people some space to breathe and a chance to defend themselves. But not the way we've been doing it.
When I go to the polls tomorrow, I won't just have the chance to pick some idiot or another for federal races. I'll also have the chance to vote directly on whether or not a number of proposals will be made law. I can do this because Michigan has voter initiatives; and when I vote on an initiative I don't have to worry about spoilers, parties, trade-offs between candidates, or anything of the sort. It's a simple up or down and I can make my choices on each issue on the ballot independently–rather than trying to figure out which dude will line up with more of my choices on the whole than the other (and whether that dude can get elected or whether I should vote for someone who's a bit worse but in a position to win, and…).
Nearly half of the states in this country empower you and I to gather signatures and put laws straight on the ballot without having to lobby legislators or roll logs or hope the least-worst major candidate might consider making a speech about it sometime. Most of us who have been paying attention to voter initiatives have been spending our time fighting them–with good reason, when the initiatives being put out are idiotic stuff such as Amendment 2 in Michigan or Measure 36 in Oregon. But why are we letting these assholes make all the first strikes? We've been building a vast network of interlinked volunteers with a do-it-yourself political ethic, from the upsurge of the antiwar movement to United for Peace and Justice to MoveOn and the Dean campaign. So come November 3, how about we start putting those resources to work in the 20-odd states with voter initiatives? (And while we're at it, bringing them to bear on the state legislature in states that don't yet have voter initiatives.)
My suggestion would be to focus on campaigns that clearly put the case to the people that the government needs to get its hands out of the till and take its boots from off our necks. Medical marijuana ballot initiatives are a good start–they've been extremely popular where introduced and when they win (which they often do) that means one more state in which the federal drug goons have to either get mired down in extremely unpopular campaigns or else just give up. That should be expanded to an effort to roll back the racist War on Drugs more broadly. And here are some other ideas to ponder:
Initiatives to curtail corporate welfare–say, for example, abolishing corporate hand-out programs or restricting the power of state and local governments to use eminent domain for corporate development.

Death penalty moratorium bills

Ending taxes that disproportionately burden people living in poverty–for example, rolling back sales tax on food and other necessities.

Resisting the federal warfare State–by passing bills requiring the state government to refuse to comply with the PATRIOT Act, any future draft, or whatever other national security assault on our rights you'd like to single out.

Some resources for making it easier when we do have to deal with the party hacks–term limits, recall statutes, lowered ballot access restrictions, instant runoff voting, ….
All of these are simple, practical, incremental changes that would do some good, allow for coalition-building between Leftists, libertarians, and (sometimes, I suppose) small-government conservatives too. We have the resources to mount big door-to-door campaigns, with volunteers and with money raised from supporters; we have the resources to do some real good over the next four years whoever is in office. Better yet, we could start actually talking with each other like rational human beings about issues and whether or not some particular law should be made, instead of dickering over who looks more Presidential and whether Hordak or Smiley Face came off as more of a mindless hack in the latest tete-a-tete.
So, in that spirit, I'm resolving to pitch myself into grassroots politics come November 3. Real grassroots politics–not browbeating the grassroots into supporting some least-worst candidate's politics, but rather writing letters to the editor, working more with local political organizations. And I'm going to start looking for, and talking about, and acting on, getting some voter initiatives that will make a real move forward on the ballot. I'm tired of following the idiots in the suits; it's time to take the resources that we've got and take our case to the people.
Further reading