Try saying that three times fast.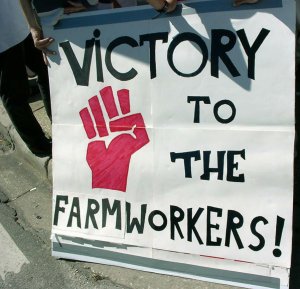 For a while now I've been urging libertarians and the labor movement to take a more serious and sympathetic look at one another. (Cf. GT 2004-05-01: Free the Unions (and all political prisoners!), GT 2005-03-23: El pueblo unido jamás será vencido! and GT 2005-03-31: Anarquistas por La Causa for representative examples.) Just as with radical libertarianism and radical feminism I think that the supposedly obvious and unbridgeable opposition between the two is the result more of terminological difficulties and shifting political alliances over the course of the 20th century than any deep or principled gulf. The best way to see this is with more engaged discussion: fewer polemics, more history, more earnest questioning, and more listening. So I'm excited to see a lot of interesting new material just in the past couple of weeks from libertarians (mostly but not exclusively left-libertarians) trying to get clear on the questions and hammer out some of the answers about the prospect for a libertarianism that has a place for workers organizing freely, and a wildcat labor movement that frees itself from the smothering patronage of the State. Here's a bit of lazy linking to the discussion so far.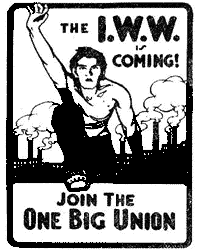 That's a rather dense thicket of interlinking posts; moving aside from this mutualist admiration society, there's also been good discussion elsewhere:
Joshua Holmes at No Treason (2005-12-09): Open Question about Libertarians and Unions asks What do libertarians have against labour unions? This question struck me the other day (because it was better than studying for Business Associations) and I wondered why libertarians have so much bile for labour unions. Holmes has a good breakdown of common corporatarian objections to unions and responses to them. A vigorous go-around on semantics, tactics, and principles follows in the comments.

Irfan Khawaja at Theory and Practice (2005-12-15): The Taylor Law and the Transit Strike: Some Questions asks for further discussion from libertarians and classical liberals about the status of strikes and work stoppages, and laws (such as the Taylor Law) which ban strikes by government employees:

Is a strike–as Howard Dickman suggests in his book Industrial Democracy in America–just a glorified form of breach of contract? In that case, libertarianism justifies strike-breaking and scabdom, period. (Cf. Truman's breaking up the railway and miner's strikes in 1946.) Or does striking have a deeper justification in libertarian principles? To the best of my knowledge, there isn't much normative discussion of this subject in the contemporary libertarian literature–a shame, considering the centrality of the issues.

In comments, I suggest a focus on questions about individual rights to refuse to work and move on to the status of strikes from there; Irfan replies with more helpful questions and commentary.
This doesn't end here. A week from now — 28 December 2005, 11:15 a.m.-1:15 p.m — The Molinari Society will be holding a symposium at APA Eastern Division in New York. The topic is going to be the debate between thick and thin libertarianism, and the thick side will be represented by Jack Ross's Labor and Liberty: A Lost Ideal and an Unlikely New Alliance. Ross will read and I'll be commenting on the essay. (Shorter me: the outline of Ross's argument is correct and important; I'm not so confident about the details and I think there are some important questions and distinctions to be raised about the kind of labor organizing that libertarians should ally with.)
Hope to see you there!