Here's a pretty old post from the blog archives of Geekery Today; it was written about 15 years ago, in 2008, on the World Wide Web.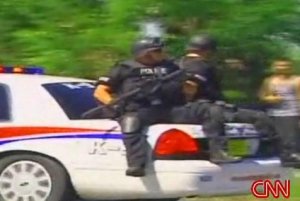 You already knew that Chicago patrol cops are planning to carry M4 assault rifles in the inner city and Springfield, Massachusetts cops plan to switch to black, military-style uniforms in the inner city in order to restore a sense of fear.
But wait, there's more.
In Tulare County, California, the county sheriff's office has formed a new, dedicated Gang Unit to engage in saturation patrols of the south end of town, to pull over suspicious cars (any guess on what color suspicious drivers are likely to be), get in the faces of suspect young men (any guess on what the color of those faces will be?), and generally to make sure that certain members of the public are afraid to use public spaces. By putting more heavily-armed police officers on the streets, they claim to be taking weapons off the streets. Gang Unit mouthpiece Sergeant Harold Liles says that the purpose of all this letting them know we are here, and the streets belong to us.
In Wilmington, Delaware, a new charter school is in the planning stages. It will enroll as many as 600 inner-city high school students — or rather, Cadets — for training in jobs for the front lines in the Nation's [sic] homeland security. The Academy will require its teenaged cadets to wear uniforms, give them extensive physical training during and after school, offer homeland security training as an after-school activity, and offer a choice of vocational curricula ranging from SWAT (Special Weapons and Tactics) through prison guard, water rescue, paramedic, fireman, professional demolition and emergency response operator.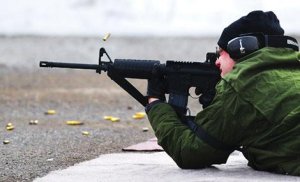 Meanwhile, in the great northwest, Montana Highway Patrol used to carry M14 rifles in the trunks of their patrol cars in case of an emergency. Soon they will all be carrying AR-15 assault rifles strapped to the front seat of the car. Montana Highway Patrol mouthpiece Jerril Ren says that For the most part, they're trying to make them [high-powered assault rifles] more readily available to the officer and said that the higher-powered guns were necessary for now-common tactical situations.
The Palm Beach County, Florida sheriff's office is now training and arming regular cops on the beat with AR-15 assault rifles.
Inner-city patrol cops in Miami have also been carrying assault rifles for the past few months, at the behest of city Police Chief John Timoney.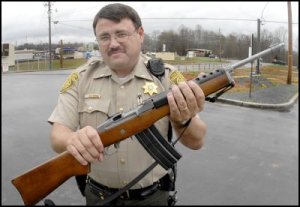 Johnson City, Tennessee patrol cops were already armed with handguns and shotguns. Now they have started a new weapons program to ensure that at least some patrol cops are carrying other, special weapons on every patrol shift. They won't say in public what those weapons are or how many they are putting onto the streets.
The Washington County, Tennessee sheriff's office just got a grant from the federal government to arm their patrol cops with AR-15 assault rifles.
And if you're wondering why all these stories have suddenly hit the news so close to each other, over just the last month, in so many different cities and counties, my suspicion is that you've got the answer right there: the United States federal government, which spent the past 30 years or so involving itself in state and local law enforcement agencies through the use of tax-funded training, grants, and equipment sales for paramilitary SWAT teams and anti-terrorism task forces, now seems to be making use of those same grants to more heavily arm and more thoroughly militarize ordinary patrol cops on the highway, in the inner city, and in rural sheriff's offices.
Do you feel safer now?
See also: