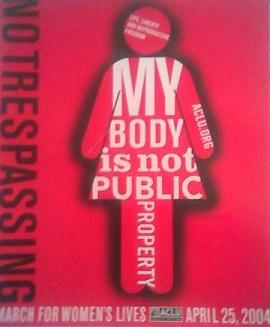 To-day is the 40th anniversary of Roe v. Wade, repealing abortion laws in the United States. Like all anniversaries, it's a good day for remembering, and for honoring.
Here's libertarian feminist Lucinda Cisler's brilliant and chillingly prescient article on Abortion Law Repeal (Sort Of): A Warning to Women. From Ramparts (August 1970), on the importance of radicalism to the pro-choice movement and the danger of TRAP laws and state control.
The most important thing feminists have done and have to keep doing is to insist that the basic reason for repealing the laws and making abortions available is JUSTICE: women's right to abortion. Everyone recognizes the cruder forms of opposition to abortion traditionally used by the forces of sexism and religious reaction. But a feminist philosophy must be able to deal with all the stumbling blocks that keep us from reaching our goal, and must develop a consciousness about the far more subtle dangers we face from many who honestly believe they are our friends. In our disgust with the extreme oppression women experience under the present abortion laws, many of us are understandably tempted to accept insulting token changes that we would angrily shout down if they were offered to us in any other field of the struggle for women's liberation. We've waited so long for anything to happen that when we see our demands having any effect at all we're sorely tempted to convince ourselves that everything that sounds good in the short run will turn out to be good for women in the long run. And a lot of us are so fed up with the system that we don't even bother to find out what it's doing so we can fight it and demand what we want. This is the measure of our present oppression: a chain of aluminum does feel lighter around our necks than one made of iron, but it's still a chain, and our task is still to burst entirely free. . . .

But the new reform legislation now being proposed all over the country is not in our interest either: it looks pretty good, and the improvements it seems to promise (at least for middle-class women) are almost irresistible to those who haven't informed themselves about the complexities of the abortion situation or developed a feminist critique of abortion that goes beyond it's our right. And the courts are now handing down decisions that look good at a glance but that contain the same restrictions as the legislation.

All of the restrictions are of the kind that would be extremely difficult to get judges and legislators to throw out later (unlike the obvious grotesqueries in the old reform laws, which are already being challenged successfully in some courts and legislatures). A lot of people are being seriously misled because the legislation and the court decisions that incorporate these insidious limitations are being called abortion law repeal by the media.

There are many reasons why a woman might seek a late abortion, and she should be able to find one legally if she wants it. She may suddenly discover that she had German measles in early pregnancy and that her fetus is deformed; she may have had a sudden mental breakdown; or some calamity may have changed the circumstances of her life: whatever her reasons, she belongs to herself and not to the state.

–Lucinda Cisler (1970), Abortion Law Repeal (Sort Of): A Warning to Women, in Ramparts (August 1970).
And here is how a group of women in Chicago took matters into their own hands, years before Roe, without the blessing of the male experts and in defiance of the man-made Law, in order to make justice for their sisters a reality.
Radical women in Chicago poured their energy into Jane, an abortion referral service initiated by Heather Booth, who had been a one-woman grapevine for her college classmates. In 1971, after Booth's departure, some of the women took matters into their own hands and secretly began to perform the abortions themselves. Safe, compassionate terminations for a modest fee became their high calling–a model, as they saw it, for women's empowerment after the revolution.

Leaflets appeared in the Hyde Park neighborhood of the University of Chicago bearing a simple message: Pregnant? Don't want to be? Call Jane at 643-3844. The number rang at the home of one of the activists who volunteered to be Jane. As word spread and the volume of calls increased, the service acquired its own phone line and an answering machine, a cumbersome reel-to-reel device that was one of the first on the market. Volunteers, known inside the service as call-back Janes, visited the abortion seekers to elicit crucial medical details (most important was lmp, the number of weeks since the last menstrual period), then another level of volunteers scheduled an appointment with one of the abortionists on the group's list.

At first the service relied on Mike in Cicero, who was fast, efficient, and willing to lower his price to five hundred dollars as the volume increased. Mike gradually let down his guard with Jody Parsons, his principal Jane contact, an artisan who sold her beaded jewelry and ceramics at street fairs and was a survivor of Hodgkin's disease. The clandestine abortionist and the hippy artisan struck up a bond. When Mike confessed that he was not in fact a real doctor but merely a trained technician, she cajoled him into teaching her his skills. Jody's rapid success in learning to maneuver the dilating clamps, curettes, and forceps demystified the forbidden procedures for another half dozen women in Jane. If he can do it, then we can do it became their motto.

Madeline Schwenk, a banker's daughter who had married at twenty, six months pregnant with no clue whatsoever about how to get an abortion, moved from counseling to vacuum aspiration after Harvey Karman, the controversial director of a California clinic, came to Chicago to demonstrate his technique. Madeline was one of the few women in Jane who was active in NOW, and who stayed affiliated with the Chicago chapter during the year she wielded her cannula and curette for the service. I'd get up in the morning, make breakfast for my three kids, go off to do the abortions, then go home to make dinner, she reminisces. Pretty ourageous behavior when you think about it. But exciting.

Jane's abortion practitioners and their assistants were able to handle a total of thirty cases a day at affordable fees–under one hundred dollars. A doctor and a pharmacist among the women's contacts kept them supplied with antibiotics.

Fear of police surveillance in radical circles had its match among clandestine abortionists who relied on a complicated rigamarole of blindfolds and middlemen. Jane straddled both worlds. Abortion seekers gathered every Wednesday, Thursday, and Friday at a front apartment, usually the home of a Jane member or friend, and were escorted by Jane drivers to the Place, a rented apartment where the abortions were performed. The fronts and the Place changed on a regular basis. New volunteers, brought into the group by counselors and drivers, went through a probation period before they were told that women in Jane were doing the abortions. The news did not sit well with everyone. Turnover was high, from fear and from burnout, although the service usually maintained its regular complement of thirty members.

Jane lost most of its middle-class clientele after the New York law [repealing the state's abortion ban] went into effect. Increasingly it began to service South Side women, poor and black, who did not have the money to travel out of state, and whose health problems, from high blood pressure to obesity, were daunting. Pressure on the providers intensified. Audaciously they added second-trimester abortionsby induced miscarriage to their skills.

On May 3, 1972, near the conclusion of a busy work day in an eleventh-floor apartment on South Shore Drive overlooking Lake Michigan, Jane got busted. Seven women, including Madeline Schwenk, were arrested and bailed out the following day. The Chicago Daily News blared Women Seized in Cut-Rate Clinic in a front-page banner. The Tribune buried Lib Groups Linked to Abortions on an inside page. Six weeks later the service was back in buinsess. Wisely, the women facing criminal charges selected a defense attorney who was clued in to and optimistic about the national picture. She advised them to hang tight–some interesting developments were taking place in Washington that could help their case. (After the January 1973 Roe decision, all outstanding charges against the seven were dropped.)

The activists of Jane believe they performed more than ten thousand abortions. It's a ballpark figure based on the number of procedures they remember doing in a given week. For security reasons they did not keep records.

–Susan Brownmiller, In Our Time: Memoir of a Revolution, pp. 123–125
Here's Roe v. Wade Day (#36), which I wrote a few years back. I would now just emphasize that I wrote this article at the beginning of the Obama administration; halfway through that administration, I can only say that the ongoing legal assault on reproductive rights under Obama's administration — an assault which, depending on the case, he has either been directly complicit in, or simply could do nothing effectual to prevent — has been far more extensive, and far worse, than I would have pessimistically predicted in January 2009. I actually do have a great deal of hope about the future and about the prospects for reproductive rights. And to-day is as good a day as any for remembering the reasons why. But none of these reasons have to do with any hope I have left for electoral campaigns or pro-choice politicians.
To-day, as part of Blog for Choice Day, NARAL would like bloggers to write about your top pro-choice hope for President Obama and/or the new Congress. But, as much as I might like for the now-ruling Democrats to roll back the past 8 years of new restrictions on abortion rights, I think the most important lesson to remember on this day is not to put your hope in the politicians and their power-plays. As noxious as Bush Jr.'s regime may have been, we can't afford to forget that it was not George W. Bush, but pro-choice Bill Clinton who spent eight years presiding over the most intense and coordinated legal assaults on abortion rights in the post-Roe era — the emergence and proliferation of TRAP laws and procedure bans from 1992 to 2000. Politicians make political decisions, and even the most principled are subject to political forces beyond their personal control, and when we put our hope for social change in their hands, whatever convictions they confess and whatever parties they swear to, they will throw it away as soon as it suits them, again, and again, and again.

If not politicians, then who should we put our hopes in? But the answer should be obvious: we must put our hope in ourselves The repeal of the abortion laws in the United States wasn't a gift handed down out of benevolence by a gang of old men in robes. It was struggled for, and won, by women in our own times. It didn't take ballot boxes; it didn't take political parties; it didn't take clever legal briefs. It took radical women who stood up for themselves, who challenged the authority of self-appointed male experts and law-makers, who spoke truth to power, who took things into their own hands and helped their sisters, in defiance of the law, because they knew that they had a right to do it, and to hell with any law and any government that said otherwise. Radical feminists who built a movement for their own freedom over a matter of months and decisively changed the world in less than five years. . It's not just that we owe the Redstockings, Cindy Cisler, Heather Booth, Jody Parsons, Madeline Schwenk, and so many others our praise. They do deserve our cheers, but they also deserve our study and our emulation. They did amazing things, and we — feminists, leftists, anti-statists — owe it not only to them, but to ourselves, to honor them by trying to learn from their example.