Here's a pretty old post from the blog archives of Geekery Today; it was written about 19 years ago, in 2004, on the World Wide Web.
(I owe the link to the brilliant take-down at feministe 2004/10/21)
If there's one thing that you can count on every year, it's that some dude will decide it's time to hold forth on Women's Lib and how the feminist movement blew it all and is, if not completely moribund, at least marginalized and just about to close up shop. The best part about spouting off about the feminist movement, for boys like these, is that it's easy: unlike political movements run for and by men, you don't have to actually bother to take the time out to research what people said or did, or what they are doing now, in order to offer your pet theories. Consider, for example, Tom Sawyer [sic!] of The Rant, who offers the following winning introduction to his article on feminism.
Remember the Year of the Woman in politics?

It sure came and went fast.

With this being another election year, we have heard form all kinds of groups. We have heard from the George Soros backed groups, Move On, the Swift Boat veterans and lots of others ranging form mainstream to the far fringes. You know what group we haven't heard from?

The feminists.

This election year we have not heard from women's groups at all. We have heard nary a word form the National Organization of Woman. This is unusual for them, since we have heard so much from them since roughly the 1980's until the end of the Clinton Administration. They used to be as loud as banshees. Now nothing.

It's as if they disappeared into the kitchen or something.
So where are all the feminists this election year, anyway?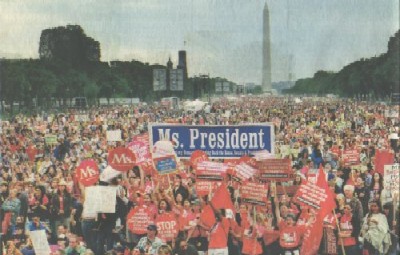 1,150,000 feminists at the March for Women's Lives 2004/04/25, Washington, DC
Tom, Tom, Tom. It seems that the rumors of feminism's demise have been greatly exaggerated.
You say you didn't see the largest political demonstration in the history of the world on your teevee? Well, Jesus, why did you expect the television news to give you reasonable coverage of mass marches in general or feminist politics in particular? Is that a strategy well-justified by its success?
You say you don't hear discussion of the issues in the newspapers or magazines? Well, again, why are you counting on the newspapers to give you good coverage of feminist activism? Nevertheless, I do have to wonder which newspapers and magazines you're reading–apparently not The Chicago Sun-Times, The Boston Globe, or The Seattle Post-Intelligencer.
You say you didn't hear the candidates highlighting discussions of feminist issues? Is that the feminists' fault, or the candidates'? Bush clearly doesn't want to talk about it because he knows he'd lose, and Kerry doesn't want to talk about it because he's a schmuck. Politicians are out of touch with reality. What else is new?
What about the rest of Tom's article–his theory that feminists have squandered their credibility and marginalized themselves by giving a hypocritical and partisan pass to Bill Clinton's sexually predatory behavior? Well, sure, there were an alarming number of feminists who either fronted for Bill Clinton or didn't say much during the Lewinsky debacle. But was that the consensus opinion? Let's see:
I am one of the few feminists I know who believed Paula Jones from the git-go. I believed Kathleen Willey and I believe Juanita Brodderick. Each of these women strikes me as a credible witness. Taken as a whole, we see a jack rabbit who grabs any nearby woman for a moment of relaxation. …

Yes, Clinton has appointed more women to big jobs than any other president in history and that's nothing to snivel at, but rather than view a handful of high-profile women as some sort of blessed gift from on high, I see the appointments as one small result of thirty years of feminist agitation. Yes, he's held the line on abortion, but any Democratic president would have done the same thing. Now let's look at a few examples of how Clinton let us down so swiftly we could only gasp: signing the oppressive welfare bill, dropping Lani Guinier like a hot potato, firing the remarkable Jocelyn Elders for daring to mention masturbation (how's that for hypocrisy?), endorsing the Don't Ask/Don't Tell policy for the military, letting Janet Reno get away with the inferno at Waco, vetoing the needle-exchange legislation, ordering air strikes on two small, troubled countries to show he's the Free World's great macho leader.

On balance, his record is atrocious.

–Susan Brownmiller, Bill Clinton, Jack Rabbit
And:
When Paula Jones sued Bill Clinton, male dominance quaked … It was clear that now any woman can sue any man for harassment … Monica Lewinsky catalyzed the fears and bigotry behind attempts to shut down sexual harassment.

–Catharine MacKinnon, quoted in The Yale Daily News 1998/03/23: MacKinnon draws people to conference
And:
I have a modest proposal. It will probably bring the FBI to my door, but I think that Hillary should shoot Bill and then President Gore should pardon her.

–Andrea Dworkin, Dear Bill and Hillary
You say you didn't know about any of this? That's fine. Nobody expects you to keep up with all the news on a political movement that you're obviously neither very interested in nor very sympathetic to. But this stuff wouldn't have been hard to figure out if you were interested in looking for it; and if you don't know what you're talking about, then why are you still talking about it?
Further reading