Here's a pretty old post from the blog archives of Geekery Today; it was written about 11 years ago, in 2011, on the World Wide Web.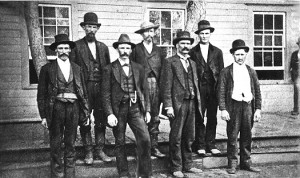 From a recent exchange at Bleeding Heart Libertarians:
Sean: And make no mistake — taxes ARE taking with a gun. It may not be tomorrow or next year.. but if you don't pay your taxes, eventually, there will be guns pointed at you.

Farstrider: This robbing at gun point metaphor is always trotted out by libertarians but it is never accurate. The government is democratically elected, and the robber is not.
Well, great: they haven't got your consent; but they have got majority support.
So before you just had a robber; and now the robber has a posse.