Quick review.
George W. Bush, Dick Cheney, Tony Blair, Donald Rumsfeld, and several other senior government officials in the U.S. and U.K. told us that Saddam Hussein's regime in Iraq had large stockpiles of chemical and biological weapons. They told us that they were actively trying to find nuclear weapons. They told us that they had connections with the al-Qaeda terrorist network, and that therefore Iraq posed an imminent threat to the security of the United States. Therefore pre-emptive war was necessary, and nothing short of regime change would do.

They lied. When Ambassador Joe Wilson told them that their evidence for claiming that Saddam Hussein was trying to acquire nuclear weapons was a forgery, they kept citing that completely spurious, forged evidence in public statements. When the U.S. intelligence apparatus was not giving the answers that they needed to justify their policy, they didn't change the policy; they set up a new intelligence office to give them the answers they wanted. Questions were left unasked and intelligence was cherry-picked and sexed-up and those who offered cautious, qualified, or dissenting views were were marginalized by the
gang at the top and their political appointees at the top of the intelligence agencies. Needless to say, the caveats and doubts were completely erased in the governments' public declarations and policy statements. Mysteriously enough, somehow or another, the attitudes of the mad-dog bosses at the top created an environment where groupthink flourished and even though the intelligence community was inundated with evidence that undermined virtually all charges it had made against Iraq (Washington Post 2005-03-31), not one word of this evidence made it past the policy gate-keepers in the President's cabinet. In other words, they had a goal, they looked for evidence to support that goal, and when they did not find good evidence they repeated evidence that they were informed repeatedly ahead of time was questionable or completely spurious evidence, and they shamelessly bowdlerized the data to in order to hide these opportunities for doubt and hype their war.
And it turns out that what they claimed on nearly every point was false.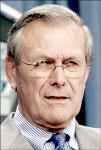 Iraq had no stockpiles of chemical and biological weapons.
Iraq had no connections with al-Qaeda.
Iraq was not any threat to the United States whatsoever.
Or to put it another way: they lied through their fucking teeth and, as a result, some 10,000-100,000 Iraqi civilians were murdered, thousands more were brutalized and tortured, and over 1,500 British and American troops have died in a rudderless, pointless bloodbath.
Dead wrong indeed. You fucking assholes.
Now that the latest report on intelligence failures–even while piously avoiding unauthorized inquiries into questions concerning the political use of intelligence in driving war policy, of course–has reiterated these sorry facts yet again, it seems that our august media and government officials are finally turning to serious questions of responsibility and policy, to make sure that something like this never happens again.
For example, The New York Times' Op-Ed page indignantly blasts the Administration for encouraging the credulous use of shaky testimony from unscrupulous interested parties.
Meanwhile, Kit Bond tells us it's all Bill Clinton's fault..
And the commission's report and Bond and the rest of the blowhard brigade have got an answer. Here it is:
The commission's report said the principal cause of the intelligence failures was the intelligence community's inability to collect good information about Iraq's WMD programs, serious errors in analyzing what information it could gather and a failure to make clear just how much of its analysis was based on assumptions rather than good evidence.

…

The single most prominent recurring theme of its recommendations is stronger and more centralized management of the intelligence community, and, in general, the creation of a genuinely integrated community, instead of a loose confederation of independent agencies.

The panel urged Bush to give broad authority to John Negroponte when he is confirmed as the director of national intelligence.
The problem, you see, is how decentralized intelligence-gathering in the United States is. We've got to make sure in the future that we can avoid the politically-driven manipulation of data, that we can prevent dissenting or cautious assessments from being filtered out by hard-charging bosses, that decision-makers get all the information and analysis that they need to make a balanced assessment. And the best way in the world to do this is to consolidate and centralize as much of the intelligence apparatus in the United States government as possible.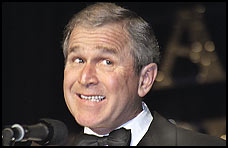 Because nothing ensures a wide range of opinion and the integrity of data like making sure that it's all filtered through a single directorate before it reaches decision-makers.
A single directorate under the control of one all-powerful political appointee, who answers directly to the President.
And that one political appointee should be John Negroponte.
All of this would be really depressing. I'm just glad that it's nothing more than one sick fucking April Fools' joke.
Right?