It's March 2010. It has now been two years since my essay Liberty, Equality, Solidarity appeared in Roderick and Tibor's Anarchism/Minarchism anthology. Which means I can now do this. Enjoy!
Liberty, Equality, Solidarity: Toward a Dialectical Anarchism
Written in 2006, published in print in 2008.
Reprinted with permission of the Publishers from Liberty, Equality, Solidarity: Toward a Dialectical Anarchism in Anarchism/Minarchism, ed. Roderick T. Long and Tibor R. Machan (Ashgate, 2008). pp. 155-188. If you reprint this article, please retain this attribution.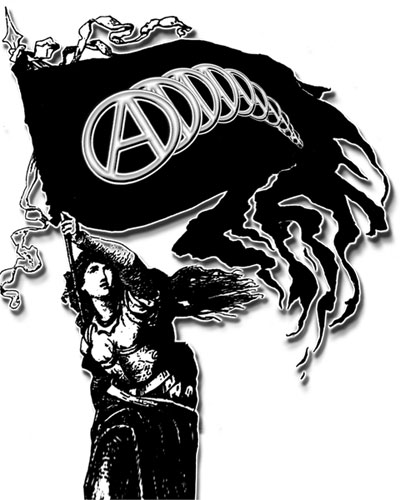 The purpose of this essay is political revolution. And I don't mean a "revolution" in libertarian political theory, or a revolutionary new political strategy, or the kind of "revolution" that consists in electing a cadre of new and better politicians to the existing seats of power. When I say a "revolution," I mean the real thing: I hope that this essay will contribute to the overthrow of the United States government, and indeed all governments everywhere in the world. You might think that the argument of an academic essay is a pretty slender reed to lean on; but then, every revolution has to start somewhere, and in any case what I have in mind may be somewhat different from what you imagine. For now, it will be enough to say that I intend to give you some reasons to become an individualist anarchist,[1] and undermine some of the arguments for preferring minimalist government to anarchy. In the process, I will argue that the form of anarchism I defend is best understood from what Chris Sciabarra has described as a dialectical orientation in social theory,[2] as part of a larger effort to understand and to challenge interlocking, mutually reinforcing systems of oppression, of which statism is an integral part—but only one part among others. Not only is libertarianism part of a radical politics of human liberation, it is in fact the natural companion of revolutionary Leftism and radical feminism.
My argument will take a whole theory of justice—libertarian rights theory[3]—more or less for granted: that is, some version of the "non-aggression principle" and the conception of "negative" rights that it entails. Also that a particular method for moral inquiry—ethical individualism—is the correct method, and that common claims of collective obligations or collective entitlements are therefore unfounded. Although I will discuss some of the intuitive grounds for these views, I don't intend to give a comprehensive justification for them, and those who object to the views may just as easily object to the grounds I offer for them. If you have a fundamentally different conception of rights, or of ethical relations, this essay will probably not convince you to become an anarchist. On the other hand, it may help explain how principled commitment to a libertarian theory of rights—including a robust defense of private property rights—is compatible with struggles for equality, mutual aid, and social justice. It may also help show that libertarian individualism does not depend on an atomized picture of human social life, does not require indifference to oppression or exploitation other than government coercion, and invites neither nostalgia for big business nor conservatism towards social change. Thus, while my argument may not directly convince those who are not already libertarians of some sort, it may help to remove some of the obstacles that stop well-meaning Leftists from accepting libertarian principles. In any case, it should show non-libertarians that they need another line of argument: libertarianism has no necessary connection with the "vulgar political economy" or "bourgeois liberalism" that their criticism targets.
The threefold structure of my argument draws from the three demands made by the original revolutionary Left in France: Liberty, Equality, and Solidarity.[4] I will argue that, rightly understood, these demands are more intertwined than many contemporary libertarians realize: each contributes an essential element to a radical challenge to any form of coercive authority. Taken together, they undermine the legitimacy of any form of government authority, including the "limited government" imagined by minarchists. Minarchism eventually requires abandoning your commitment to liberty; but the dilemma is obscured when minarchists fracture the revolutionary triad, and seek "liberty" abstracted from equality and solidarity, the intertwined values that give the demand for freedom its life, its meaning, and its radicalism. Liberty, understood in light of equality and solidarity, is a revolutionary doctrine demanding anarchy, with no room for authoritarian mysticism and no excuse for arbitrary dominion, no matter how "limited" or benign.
Charles Johnson (2008)
References
Barnett, Randy (2004). Restoring the Lost Constitution: The Presumption of Liberty. Princeton: Princeton University Press.
Beito, David T. (2000). From Mutual Aid to the Welfare State: Fraternal Societies and Social Services, 1890-1967. University of North Carolina Press.
Bidinotto, Robert J. (1994). "The Contradiction in Anarchism."
Block, Walter (2006). "Libertarianism is unique; it belongs neither to the right nor the left: a critique of the views of Long, Holcombe, and Baden on the left, Hoppe, Feser and Paul on the right." Mises Institute Working Paper.
Bourne, Randolph (1919). "The State."
Brownmiller, Susan (1975). Against Our Will: Men, Women, and Rape. New York: Simon and Schuster.
Buhle, Paul (1999). Taking Care of Business: Samuel Gompers, George Meany, Lane Kirkland, and the Tragedy of American Labor. New York: Monthly Review Press.
Byock, Jesse L. (2001). Viking Age Iceland. New York: Penguin Books.
Carson, Kevin A. (2004). Studies in Mutualist Political Economy. Fayetteville, Arkansas: self-published.
Childs, Roy A. (1969). "Objectivism and the State: An Open Letter to Ayn Rand." In Joan Kennedy Taylor (Ed.) (1994), Liberty Against Power: Essays by Roy A. Childs, Jr. San Francisco: Fox and Wilkes. 145-56.
Dworkin, Andrea (1983). "I Want a Twenty-Four Hour Truce During Which There Is No Rape." In Letters from a War Zone (1993). Brooklyn: Laurence Hill Books. 162-171.
Hanisch, Carol (1969). "The Personal is Political." In Redstockings (Ed.) (1978), Feminist Revolution. New York: Random House. 204-205.
Hayek, Friedrich A. (1978). Law, Legislation, and Liberty, Vol. 2: The Mirage of Social Justice. Chicago: University of Chicago Press.
Hoppe, Hans-Hermann (2001). "Secession, the State, and the Immigration Problem, at LewRockwell.com.
Hummel, Jeffrey R. (1996). Emancipating Slaves, Enslaving Free Men: A History of the American Civil War. Peru, Illinois: Open Court Publishing.
Jefferson, Thomas (1776a). "Declaration of Independence."
Jefferson, Thomas (1776b). "Original Rough Draft of the Declaration of Independence."
Johnson, Charles and Roderick T. Long (2005). "Libertarian Feminism: Can This Marriage Be Saved?"
Kolko, Gabriel (1963). The Triumph of Conservatism: A Reinterpretation of American History, 1900-1915. Chicago: Quadrangle Books.
Locke, John (1690). Second Treatise of Government.
Long, Roderick T. (2001a). "Equality: The Unknown Ideal." Presented for the Philosophy of Liberty Conference at the Ludwig von Mises Institute in Auburn, Alabama, Saturday, September 29, 2001.
Long, Roderick T. (2001b). "The Benefits and Hazards of Dialectical Libertarianism," in The Journal of Ayn Rand Studies, Vol. 2, No. 2 (Spring 2001). 395-448.
Long, Roderick T. (2002a). "Privatization, Viking Style: Model or Misfortune?" At LewRockwell.com (6 June 2002).
Long, Roderick T. (2002b). "Why Does Justice Have Good Consequences?" Alabama Philosophical Society Presidential Address, Orange Beach, Alabama (26 October 2002).
Long, Roderick T. (2005). "Freedom and the Firm." At Austro-Athenian Empire (4 December 2005).
Long, Roderick T. (2006). "Rule-Following, Praxeology, and Anarchy." In New Perspectives on Political Economy, Vol. 2, No. 1.
Long, Roderick T. (2007). "Market Anarchism As Constitutionalism," In Anarchism/Minarchism: Is Government Part of a Free Country?, ed. Roderick T. Long and Tibor R. Machan. Aldershot: Ashgate. 133–154.
MacKinnon, Catharine A. (1986). Toward a Feminist Theory of the State. Cambridge, Massachusetts: Harvard University Press.
Moore, Carol (2006). "Woman Vs. The Nation-State" (revised edition). Originally published in Liberty, November 1991.
Morgan, Robin (1989). The Demon Lover: On the Sexuality of Terrorism. New York: W. W. Norton.
Nozick, Robert (1974). Anarchy, State, and Utopia. New York: Basic Books.
Rand, Ayn (1964). The Virtue of Selfishness: A New Concept of Egoism. New York: New American Library.
Rothbard, Murray N. (1962). Man, Economy, and State. Auburn, Alabama: Ludwig von Mises Institute.
Rothbard, Murray N. (1965). "Left and Right: The Prospects for Liberty," in Left and Right: A Journal of Libertarian Thought I.1 (Spring 1965).
Sciabarra, Chris M. (1995a). Marx, Hayek, and Utopia. Albany, NY: SUNY Press.
Sciabarra, Chris M. (1995b). Ayn Rand: The Russian Radical. University Park: Pennsylvania State University Press.
Sciabarra, Chris M. (2000). Total Freedom: Toward a Dialectical Libertarianism. University Park: Pennsylvania State University Press.
Sciabarra, Chris M. (2002). "Dialectical Libertarianism: All Benefits, No Hazards." In The Journal of Ayn Rand Studies Vol. 3, No. 2 (Spring 2002). 381-400.
Spencer, Herbert. (1851). Social Statics: or, The Conditions essential to Happiness specified, and the First of them Developed. Online Library of Liberty.
Spooner, Lysander. 1858. "To the Non-Slaveholders of the South: A Plan for the Abolition of Slavery." Molinari Institute Online Library.
Spooner, Lysander. (1867-1870). No Treason, Nos. 1, 2, and 6. Molinari Institute Online Library.
Spooner, Lysander. (1882a). "A Letter to Congressman Thomas F. Bayard: Challenging His Right – And That of All the Other So-Called Senators and Representatives in Congress – To Exercise Any Legislative Power Whatever Over the People of the United States." Molinari Institute Online Library.
Spooner, Lysander. (1882b). "Natural Law; or, the Science of Justice." Molinari Institute Online Library.
Spooner, Lysander. (1886). "A Letter to Grover Cleveland on His False Inaugural Address: The Usurpations and Crimes of Lawmakers and Judges and the Consequent Poverty, Ignorance, and Servitude of the People." At LysanderSpooner.org.
Tjaden, Patricia and Nancy Thoennes. (2000). Full Report of the Prevalence, Incidence, and Consequences of Violence Against Women: Findings from the National Violence Against Women Survey. Washington, DC: Office of Justice Programs. Research Report NCJ 183781.
Tucker, Benjamin R. (1888). "State Socialism and Anarchism: How Far They Agree, and Wherein They Differ." Molinari Institute Online Library.
Warshaw, Robin. (1994). I Never Called It Rape: The Ms. Report on Recognizing, Fighting, and Surviving Date and Acquaintance Rape. New York: HarperCollins.
Wolff, Robert Paul. (1970). In Defense of Anarchism. Berkeley: University of California Press.