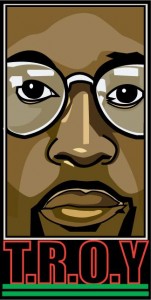 R.I.P. Troy Anthony Davis (Oct. 9, 1968 – Sep. 21, 2011)
Troy Davis executed. ABC World News (21 September 2011).
Troy Davis was executed this evening after the U.S. Supreme Court denied a last-minute stay of execution.

Davis died at 11:08 p.m. ET, according to a Georgia Department of Corrections official.

Eyewitnesses described the mood in the execution chamber as "somber" as Davis declared his innocence a final time and relatives of his alleged murder victim looked on.

The execution was delayed more than four hours as the U.S. Supreme Court weighed last-minute arguments from Davis' legal team and the state of Georgia over whether his execution should be blocked.

The court's decision to deny the stay came without comment after 10 p.m. ET.

Davis was convicted of the 1989 murder of off-duty Savannah, Ga., policeman Mark MacPhail, and had his execution stayed four times over the course of his 22 years on death row, but multiple legal appeals during that time failed to prove his innocence.

Public support grew for Davis based on the recanted testimony of seven witnesses from his trial and the possible confession of another suspect, which his defense team claimed cast too much doubt on Davis' guilt to follow through with an execution.

Several witnesses recanted their testimony that Davis fired the shot that killed MacPhail.
Troy Davis was innocent and this was a premeditated murder by the State of Georgia — nothing more and nothing less than a torturous, slow-motion legal lynching. The courts, the governors, and the parole boards knew that there was every reason to doubt his guilt, but they don't give a damn, because each court formally refused to listen to or consider any substantive new evidence — like the fact that there was no physical evidence to connect Davis to the murder, and more than half the witnesses admitted that they lied on the stand (under intense pressure from Georgia police) during the original trial. Be that as it may the sentence had been passed and the paperwork filed and you can hardly stop to consider substantive evidence of innocence once the procedural question of his trial has been sealed under the authority of the State. You can't stop the machine of governmental justice from grinding for something so paltry as an innocent man's life; there's a principle involved.
And the principle is power. The power of death. That is the Majesty of the Law; that is its morality; that is its justice.
See also