Happy Tyrannicide Day (observed)!
Today, March 15th, commemorates the assassination of two tyrants. Today is the 2,051st anniversary — give or take the relevant calendar adjustments — of the death of Gaius Julius Caesar, the military dictator who butchered his way through Gaul, set fire to Alexandria, and, through years of conquest, perfidy, and proscription, battered and broke every barricade that republican institutions had put in the way of military and executive power, until he finally had himself proclaimed dictator perpetuus, the King of Rome in everything but name. On March 15th, 44 BCE, a group of republican conspirators, naming themselves the Liberatores, rose up and stabbed Caesar to death on the floor of the Senate. Meanwhile, Thursday, March 13th, was also the 127th anniversary (give or take the relevant calendar adjustments), of the death of Czar Alexander II Nikolaevitch, the self-styled Caesar of all the Russias. Alexander was killed by grenades thrown by a group of anarchist conspirators on March 13th, 1881 C.E., in an act of propaganda by the deed. In honor of the events, the Ministry of Culture in this secessionist republic of one has proclaimed March 15th Tyrannicide Day (observed), which is kind of like President's Day, except cooler. Instead of another dull theo-nationalist hymn on the miraculous births of two of the canonized saints of the United States federal government, Tyrannicide Day gives us one day in which we can commemorate the deaths of two tyrants at the hands of their equals — men and women who defied the tyrants' arbitrary claims to an unchecked authority that they had neither the wisdom, the virtue, nor the right to exercise. Men and women who saw themselves as exercising their equal right of self-defense, by striking down the would-be tyrants just like they would be entitled to strike down any other two-bit thug who tried to kill them, enslave them, or shake them down.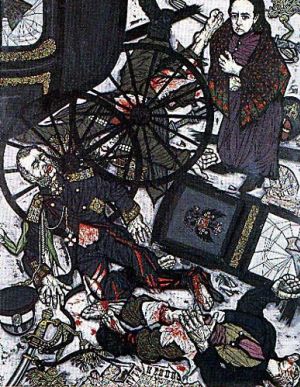 It is worth remembering in these days that the State has always tried to pass off attacks against its own commanding and military forces (Czars, Kings, soldiers in the field, etc.) as acts of terrorism. That is, in fact, what almost every so-called act of terrorism attributed to 19th century anarchists happened to be: direct attacks on the commanders of the State's repressive forces. The linguistic bait-and-switch is a way of trying to get moral sympathy on the cheap, in which the combat deaths of trained fighters and commanders are fraudulently passed off, by a professionalized armed faction sanctimoniously playing the victim, as if they were just so many innocent bystanders killed out of the blue. Tyrannicide Day is a day to expose this for the cynical lie that it is. As many reasons as there are to criticize the strategy behind the assassinations of Czars, Princes, and Dictators Perpetual, the fact that the brutal absolute monarch of a monster State lay dead at the end is not among them.
There are in fact lots of good reasons to rule out tyrannicide as a political tactic — after all, these two famous cases each ended a tyrant but not the tyrannical regime; Alexander II was replaced by the even more brutal Alexander III, and Julius Caesar was replaced by his former running-dogs, one of whom would emerge from the abattoir that followed as Augustus Caesar, to begin the long Imperial nightmare in earnest. But it's important to recognize that these are strategic failures, not moral ones, and what should be celebrated on the Ides of March is not the tyrannicide as a strategy, but rather tyrannicide as a moral fact. Putting a diadem on your head and wrapping yourself in the blood-dyed robes of the State confers neither the virtue, the knowledge, nor the right to rule over anyone, anywhere, for even one second, any more than you had naked and alone. Tyranny is nothing more and nothing less than organized crime executed with a pompous sense of entitlement and a specious justification; the right to self-defense applies every bit as much against the person of some self-proclaimed sovereign as it does against any other two-bit punk who might attack you on the street.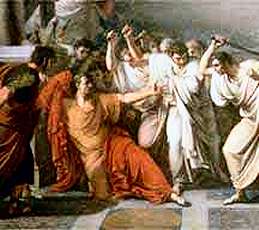 Every victory for human liberation in history — whether against the crowned heads of Europe, the cannibal-empires of modern Fascism and Bolshevism, or the age-old self-perpetuating oligarchies of race and sex — has had these moral insights at its core: the moral right to deal with the princes and potentates of the world as nothing more and nothing less than fellow human beings, to address them as such, to challenge them as such, and — if necessary — to resist them as such.
I have been informed that March 15th is also commemorated as the International Day Against Police Brutality. Make of that what you will; what the Ministry of Culture will make of it is an excellent opportunity for a program of commemorative song.
Our first piece is a skolion for the Athenian lovers Aristogeiton and Harmodius, who assassinated the tyrant Hipparchus in 514 BCE, using swords they had concealed in ceremonial myrtle wreaths. In the Athenian democracy, the couple were celebrated as martyrs for liberty, and often remembered in hymns and songs sung before banquets. This is Edgar Allan Poe's 1827 translation of the most famous surviving Hymn to Aristogeiton and Harmodius; feel free to sing it at your Tyrannicide Day holiday dinner:
Wreathed in myrtle, my sword I'll conceal
Like those champions devoted and brave,
When they plunged in the tyrant their steel,
And to Athens deliverance gave.

Beloved heroes! your deathless souls roam
In the joy breathing isles of the blest;
Where the mighty of old have their home
Where Achilles and Diomed rest

In fresh myrtle my blade I'll entwine,
Like Harmodius, the gallant and good,
When he made at the tutelar shrine
A libation of Tyranny's blood.

Ye deliverers of Athens from shame!
Ye avengers of Liberty's wrongs!
Endless ages shall cherish your fame,
Embalmed in their echoing songs!

— Hymn to Aristogeiton and Harmodius, trans. Edgar Allan Poe (1827)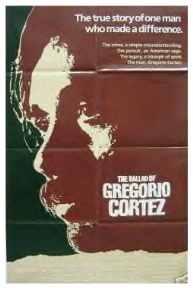 Our second piece, in honor of the combined occasions for the day, is one of the most famous outlaw corridos from the south Texas borderlands, The Ballad of Gregorio Cortez, a cowboy and small-time farmer in Karnes County, Texas, who became a legal cause celebre, and a folk hero for many Tejan@s, after he fought back against a racist sheriff in June 1901. Sheriff W. T. Brack Morris was interrogating Cortez and his brother, and accused them of horse-thieving — based on nothing more than the fact that they did have a horse, and Cortez met the description of the suspect in a recent horse-theft — a suspect who had been described only as a middle-sized Mexican. Morris tried to arrest Cortez; Cortez told him off, and said that Morris had no reason to arrest him. The deputy who was translating mistakenly claimed that Cortez had said No white man can arrest me; that was enough for Morris, who pulled his gun and shot down Cortez's brother. Cortez fired back, killing Morris, and then fled across the state on foot. He managed to elude capture for ten days, repeatedly making daring and close escapes when surrounded and outnumbered by sheriffs, posses, and the rinches (Texas Rangers). The cops threw his wife, his mother, and his children into jail. Anglo papers called for him to be lynched, and Anglo mobs rioted against Latin@s in Gonzales, Refugio, and Hayes counties. After Cortez was finally captured and put on trial for murder, his supporters organized legal defense campaigns, arguing that Cortez had killed only in to defend himself and his family; eventually they got all but one of the murder convictions reversed on appeal. In 1913, they convinced governor Oscar Colquitt to grant Cortez a conditional pardon. Meanwhile, his fame spread in the countryside through this ballad.
Like all corridos, there as many different versions of Gregorio Cortez as there are performances of it. This version is stitched together from my favorite parts of some of the several variants transcribed by Américo Paredes; cf., for example 1, 2, 3.
Gregorio Cortez

Traditional (1900s–1920s).

En el condado de El Carmen
miren lo que ha sucedido,
muri?@c3;b3; el Cherife Mayor
quedando Román herido.

Se anduvieron informando
como media hora después
supieron que el malhechor
era Gregorio Cortez.

Decía Gregorio Cortez
Con su pistola en la mano:
–No siento haberlo matado,
lo que siento es a mi hermano.–

Soltaron los perroes jaunes
pa' que siguieran la huella,
pero alcanzar a Cortez
era seguir a una estrella.

Tir?@c3;b3; con rumbo a Gonzales
sin ninguna timidez:
–Síganme, rinches cobardes,
yo soy Gregorio Cortez.–

Y en el condado del Kiansis
lo llegaron a alcanzar
y a pocos más de trescientos
allí les brinc?@c3;b3; el corral.

Decía Gregorio Cortez,
con pistola en la mano:
–¡Ay, cuánto rinche cobarde
para un solo mexicano!–

Cuando les brinc?@c3;b3; el corral,
seg?@c3;ba;n lo que aquí se dice,
se agarraron a balazos
y les mat?@c3;b3; otro cherife.

Decían Gregorio Cortez
con su alma muy encendida:
–No siento haberlo matado,
la defensa es permitida.

Sali?@c3;b3; Gregorio Cortez,
sali?@c3;b3; con rumbo a Laredo,
no lo quisieron seguir
porque le tuvieron miedo.

Decían Gregorio Cortez:
¿Pa' qué se valen de planes?
No me pueden agarrar
ni con esos perros juanes.

Decían los americanos:
–Si lo alcanzamos ¿qué hacemos?
Si le entramos por derecho
muy poquitos volveremos.–

Allá por El Encinal,
Seg?@c3;ba;n lo que aquí se dice,
le formaron un corral
y les mat?@c3;b3; otro Cherife.

Ya se encontr?@c3;b3; a una mexicana,
le dice con altivez:
–Platícame qué hay de nuevo,
yo so Gregorio Cortez.

–Dicen que por culpa mía
han matado mucha gente,
pues ya me voy a entregar
porque eso no es conveniente.–

Venían todos los rinches,
por el viento volaban,
porque se querían ganar
diez mil pesos que les daban.

Cuando rodearon la casa
Cortez se les present?@c3;b3;:
–Por la buena sí me llevan
porque de otro modo no.

Deciá el Cherife Mayor,
como queriendo llorar:
–Cortez, entrega tus armas,
no te vamos a matar.–

Decía Gregorio Cortez,
gritaba en alta voz:
–Mis armas no las entrego
hasta estar en calaboz'.–

Ya agarraron a Cortez,
ya termin?@c3;b3; la cuesti?@c3;b3;n,
la probre de su familia
lo lleva en el coraz?@c3;b3;n.

Ya con ésta me despido
a la sombra de un ciprés;
aquí se acaba el corrido
de don Gregorio Cortez.

Gregorio Cortez

Trans. (2008) Charles Johnson.

In the county of El Carmen,
Look what's gone down
The Big Ol' Sheriff is dead,
Leaving Roman dying on the ground.

They walked around asking questions
and in half an hour or so
they found out the man who did it
was Gregorio Cortez.

And so said Gregorio Cortez,
with his pistol in his hand,
I don't feel sorry that I killed him;
what I feel sorry about is my brother.

They unleashed the hound dogs,
to follow on his trail,
but chasing after Cortez
was like following a star.

He tore off down toward Gonzales
Not timid in the least;
Come after me, cowardly rinches;
I am Gregorio Cortez.

And in the county of Kiansis,
They showed up to try and grab him,
A bit more than three hundred
There, and he jumped out of their corral.

And so said Gregorio Cortez,
With his pistol in his hand:
Man, look how many cowardly rinches
For just one Mexican!

But when he jumped the corral,
What they say around here is,
The bullets started flying,
And he killed them another sheriff.

And so said Gregorio Cortez,
With his soul burning bright,
I don't feel sorry that I killed him.
A man's got a right to defend his life.

Then Gregorio Cortez got away,
got away down the way to Laredo;
they wouldn't have wanted to follow,
Now he had them scared to.

And so said Gregorio Cortez:
What's the good of your plots?
You can't get your hands on me,
Not even with those hound dogs.

And so said the Americanos:
If we catch up to him, what can we do?
If we go after him in a straight-up fight,
There won't be many coming back.

Out there by El Encinal,
What they say around here is,
They got him in another corral
And he killed them another sheriff.

Then he met another Mexican,
And he said with some arrogance,
What's the news? Tell me–
I am Gregorio Cortez.

They say that because of me,
They're killing lots of folks
So now I'll turn myself in,
because that ain't fit at all.

Down came all the rinches,
Flying through the wind,
Because they wanted to get ahold of
Ten thousand pesos like they were offered.

When they surrounded his house
Cortez showed himself to say:
You'll take me in by my own will,
And not any other way.

And so said the Big Ol' Sheriff,
like he was about to cry:
Cortez, hand over your guns,
and you won't have to die.

And so said Gregorio Cortez,
With a great big yell,
I'm not handing my guns over
Until you've locked me in my cell.

And so they took in Cortez,
And that's where it came to an end.
His poor family
Carry him in their hearts.

And with that I'll say my goodbye
In the shade under a cypress;
Here I'll finish off the ballad
Of Don Gregorio Cortez.
Thus always to tyrants. Beware the State. Celebrate the Ides of March!
Further reading: